CO2 Gas Recovery Plant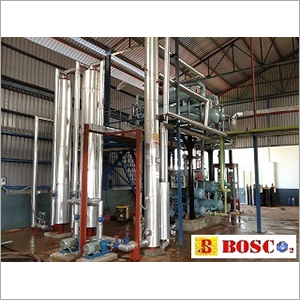 CO2 Gas Recovery Plant
Product Description
Our carbon dioxide gas recovery plant gets CO2 gas from the aging procedure goes through a progression of sanitization procedures specifically- an untainted steel CO2 froth trap to isolate the gas, A deodorizer. In the meantime, CO2 with a high level of immaculateness is essential for the generation procedure in an advanced brewery. With our carbon dioxide gas recovery plant, we provide systems that match every prerequisites of high quality carbon dioxide treatment: optimum immaculateness with least O2 matter and greatest outcome.
In some stages, the CO2 gas is purged completely, so it goes along even with the rigorous requirements of the fermenting business. From the aging containers of our carbon dioxide gas recovery pant, the CO2 is initially prompted to the froth separator. In this stage, the froth get on from the aging tanks is isolated. Through less-force gas storage inflatable the gas circulates into the gas purifier, where it is cleared by counter circulation of water. Further, in the gas purifier water-solvent debasements and pressurized canned products are consumed from the carbon dioxide.
Our Carbon Dioxide Gas Recovery Plant Primarily Includes Of Equipments That Are Mentioned Below:
CO2 Strippers, Balloons, Vaporizers And Storage Tanks
Evaporation, Vent And Liquefaction Condensers
Dryers/ Dehydrators
Purification Modules Such As Foam Traps
Refrigerated CO2 Tension Vessels
Deodorizers
Properties:
Anticipates Defilement Of Greasing Up Oil
Durable Outline Including Stuffing Box And Cross Head
Enhances CO2 Assimilation
Intact Stripping Of CO2
Low Tension Cleaning
Advances Fuel-Savings As Well As Is Financially Savvy
Specifications:
Processing Material: Agronomic Products
Process: Ferment
Processing: Fermentation & Distillation
Application Industries: Alcohol/Ethanol

FAQs:

Q: What is a CO2 recovery plant?

A: CO2 Recuperation Plant takes CO2 gas from the maturation interaction goes through a progression of purging cycles specifically - a hardened steel CO2 foam trap to isolate the gas, A deodoriser . Simultaneously, CO2 with a very high degree of purity is indispensable for the production process in a modern brewery.

Q: What is the purpose of a CO2 recovery plant?

A: The main purpose is to reduce greenhouse gas emissions and increase the efficiency of industrial processes.

Q: What industries use CO2 gas recovery plants?

A: CO2 recovery plants are commonly used in the oil and gas, chemical, and food and beverage industries.

Q: How does a CO2 recovery plant work?

A: The CO2 is captured from flue gases or process streams and purified through various separation and filtration techniques. The purified CO2 is then compressed and stored for reuse or sale.



Contact Us
B-51, Arpan Complex, Nizampura Vadodara Gujarat India +918045478835
Phone :+918045478835